SRB Works With Howard University to Spotlight Myrtilla Miner's Education Legacy
Howard University had one eye on its future and the other on its past in February when leaders gathered outside the Miner Building and formally kicked off a $1 billion, multi-year campus construction program.
We played a role in that event. Starting last summer, SRB Communications worked closely with the Howard University Real Estate Development & Capital Asset Management and Strategy teams to develop a communications plan for the Campus Master Plan, improve a website, draft press releases and prepare publicity materials for February's official launch celebration. We did research, hunted for photos, conducted interviews and produced short videos.
Along the way, we learned much about the Miner Building's inspiring history and its remarkable eponym, Myrtilla Miner. Through interviews and research, we came to appreciate how well Howard University's plans for the Miner Building bridge its storied past as one of the nation's leading historically Black colleges and universities with a visionary roadmap to the future.
SRB has a proven track record for telling clients' stories in creative ways in brand awareness and public education campaigns that produce favorable results. Howard University had a good story to tell.
Architecturally, the century-old Miner Building is one of Howard University's most impressive structures, but its Colonial Revival style features are only one reason the building is on the National Register of Historic Places. Others are its connection to Miner and its contributions to Black education in Washington, D.C. as we learned from historic preservationists.
Miner was a white woman who pioneered education for African Americans more than a decade before the Civil War. In 1851, she opened the first school for the children of enslaved people in Washington, D.C. It had just six students. Slavery was still legal in the nation's capital then and Miner faced intense bigotry and harassment. Mobs threatened to burn down her school. Friends, who included Frederick Douglass and Harriet Tubman, supported her.
Miner's school closed in 1860 and she died four years later. But successor schools named after her that opened after the Civil War became the forerunners of Washington's public school system and the University of the District of Columbia.
One of those successors was the Miner Teachers College and it was in the building that is today part of the university's campus. Generations of Black teachers and administrators who were educated inside it found jobs in segregated schools in Washington and other Southern communities during the first half of the 20th Century.
Now that building is being gutted and its interior thoroughly modernized to house the university's School of Education and its charter Middle School for Mathematics and Science. As soon as next year, future teachers studying at Howard will hone their skills in a space shared with sixth, seventh and eighth graders preparing for career and entrepreneurship opportunities in science, technology, engineering and mathematics (STEM).
We interviewed the university's staff members about the significance of the Miner Building's rebirth as a dual-purpose place of education for children and young adults learning to be teachers.
One of our favorite answers came from Kathryn Procope, executive director of the Middle School:
"Teachers are going to recognize and remember that this was a place that taught teachers … that they're going to be teaching in a school that was created for teachers of color … for some people who didn't have opportunities. So, they're also carrying on that legacy."
Here's a snapshot of some of our work. Thank you, Howard University, for our partnership on this most important campaign.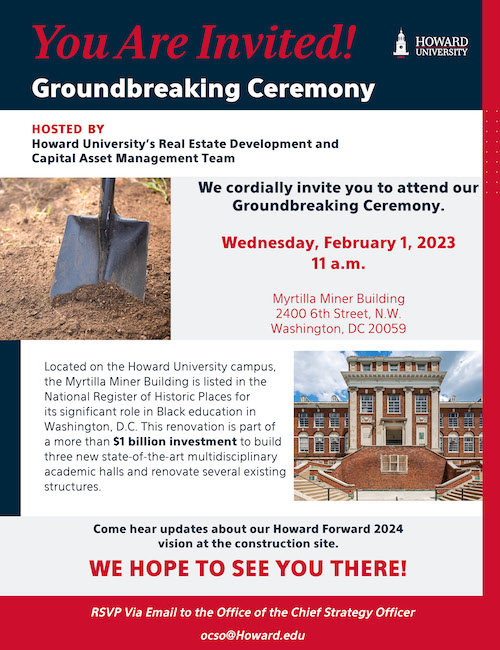 Photo courtesy of University of the District of Columbia archives.